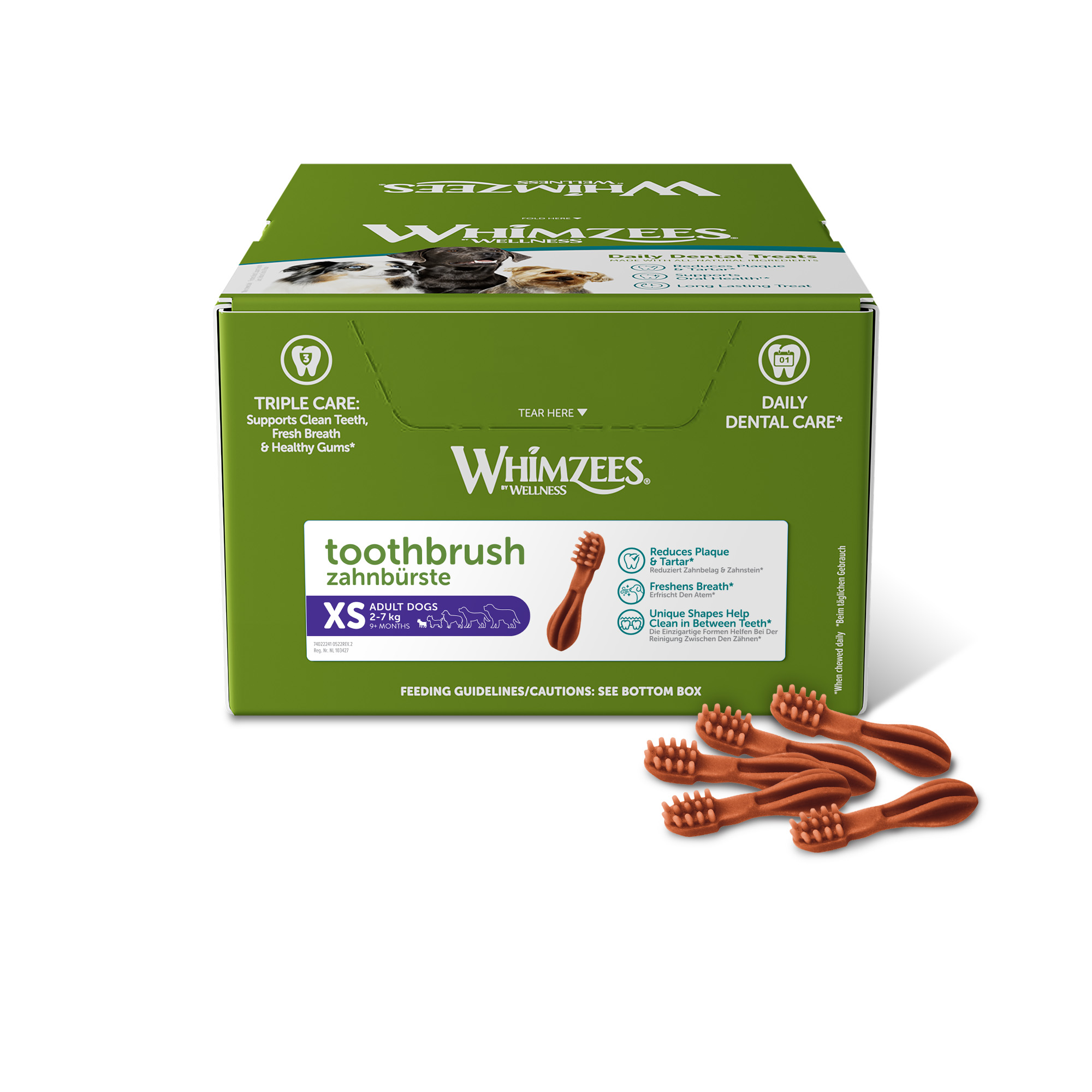 Whimzees tyggeben, tannbørste XS, display m/350 stk. (Bulk)
380800
Whimzees chews come in four fun different shapes: Toothbrush, alligator, hedgehog or stix. The low calorie chews contain all-natural ingredients and are high in fiber. The carefully selected ingredients are approved for human use.

Whimzees contain no artificial ingredients, colours, flavors, preservatives, GMOs, gluten or meat. Whimzees keep the dog's teeth clean for a long time.
There are 6 main ingredients in Whimzees treats - all human grade.
Potato starch: Highly digestible, gluten-free and a great source of energy
Glycerin: Increases palatability and helps our chews retain moisture
Powdered Cellulose: A pure form of dietary fibre that helps polish a dog's teeth and aids in digestive tract regularity
Lecithin: An all-natural emulsifier derived from vegetables
Malt extract: Gluten-free and improves metabolism, muscle tone and promotes strong bones
Yeast: Source of B vitamins, minerals and amino acids for a healthier coat and easy digestion
Feeding guidelines:
We recommend one properly sized treat per day
Not suitable for dogs under the age of 9 months
Not suitable for dogs under 2 kg in weight
Always have fresh water available for your dog

As with any edible product, monitor your dog to ensure the treat is adequately chewed. Swallowing any item without thoroughly chewing it may be harmful or even fatal to a dog
Whimzees contain 1,75 kcal per gram.
See video:
Hills Campaign From Date
01.01.0001
Hills Campaign To Date
01.01.0001
Standard Order Quantity
1,00